Jeep Cherokee Trim Levels

University CDJR is dedicated to making sure that drivers near Hamilton, Madison, and Smyrna have all the information they need to make the right decision when picking out their next motor vehicle, which is where this Jeep Cherokee trim levels review comes in.
If you're interested in finding out if the Cherokee fits in with your individual automotive needs, read through these brief descriptions of its nine configurations to see what each one has to offer.
Jeep Cherokee Latitude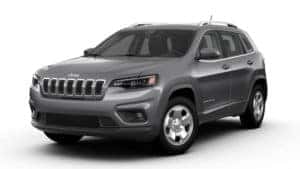 The Cherokee Latitude is the base trim. It starts things off by ensuring that everyone on board gets a pleasant experience. For instance, the Latitude comes with a 6-speaker sound system that provides you with the opportunity to listen to your favorite driving soundtrack. There's also the 6-way Manual Passenger Seat Adjust that allows your front-seat passenger to enjoy a comfortable ride from start to finish.
Jeep Cherokee Latitude Plus
Convenient touches for the Jeep Cherokee Latitude Plus include such items as the USB Charging Port that's located in the Console Bin. This handy feature makes it easy for you to keep your mobile devices fully charged throughout the drive.
Jeep Cherokee Altitude
Next up is the Jeep Cherokee Altitude. This one makes use of the 7-inch Touch Screen Display that provides you with easy access to all of your favorite channels and settings.
Jeep Cherokee Limited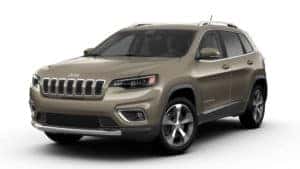 With the Jeep Cherokee Limited, you can look forward to the extra protection provided by features like the Auto-Dimming Rear View Mirror that prevents you from being distracted whenever bright headlights show up from behind.
Jeep Cherokee Upland
As the driver, you'll be happy to know that the Jeep Cherokee Upland trim level is available with a Heated Steering Wheel. With it, you can see to it that you're able to get a comfortable grip on the wheel no matter what the weather is like outside.
Jeep Cherokee Trailhawk
The Trailhawk is the next Jeep Cherokee trim level on the list. A highlight in the comfort department for this one is its Dual Zone Auto Temperature Control that gives you and your passenger in the front seat the chance to individually set your preferred temperature settings.
Jeep Cherokee High Altitude
The Jeep Cherokee High Altitude takes the speaker count from six to nine for an even more robust listening experience.
Jeep Cherokee Trailhawk Elite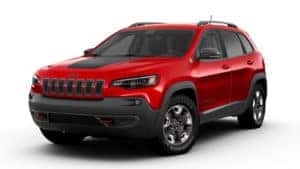 The Trailhawk Elite takes comfort up a level via the Ventilated Front Seats. With these, you and your front seat passenger have the chance to appreciate a refreshing drive from start to finish.
Jeep Cherokee Overland
Finally, there's the Cherokee Overland. This trim boosts the touchscreen display size up from seven inches to 8.4 inches in order to help keep as much of your attention on the road as possible.
Get a Feel for the Jeep Cherokee Trim Levels that Appeal to You the Most
As you can see, all nine configurations provide you with unique driving experiences. Now that you've had a sneak peek of what each one has in store for your drives near Hamilton, Madison, or Smyrna, you're ready to check out the ones that got your attention in person. You can make that happen by contacting University CDJR to schedule a test drive today.