2020 Jeep Wrangler Review


The 2020 Jeep Wrangler is a fully capable compact SUV. We here at University CDJR thought we'd give Hamilton, Madison, and Smyrna drivers a clear picture of what it has in store for them. Continue reading to get a sense of what it's all about. Below is some key information concerning a few of its impressive highlights in terms of its performance, safety, and comfort.
Feel free to reach out to our team by sending us an email, giving us a call on the phone, or paying us a visit in person if you come up with any questions that you'd like us to answer. We'll be happy to take care of that for you right away.
The 2020 Jeep Wrangler: Performance Specs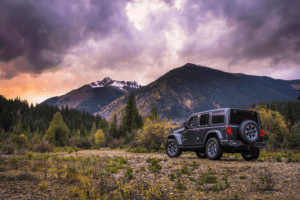 Wherever your travels happen to take you, you can be confident that the 2020 Wrangler will be able to handle any challenges that come your way. This is due to the fact that it's propelled by a full-bodied 3.6-liter V6 that supplies you with as much as 285 horsepower and 260 lb-ft of torque.
Another notable fact about this performance is its efficiency. The Wrangler boasts an EPA-estimated 17 city MPG and 25 highway MPG that helps see to it that you have the gas mileage to get you to where you're going with fuel to spare.
First-Rate Safety Features
The Jeep Wrangler is available with a wide array of safety aids. For starters, there's the Forward Collision Warning with Active Braking that lets you know when an impact to the front of the vehicle is possible. It's even able to apply the brakes if you are unable to respond within an appropriate amount of time. The Adaptive Cruise Control is there to make sure the predetermined distance between you and the vehicle in front of you is maintained despite fluctuations in the flow of traffic.
Other available safety features include Blind Spot Monitoring for when you're attempting to change lanes and Automatic High-Beam Headlamps that kick into action when you need them the most.
The 2020 Jeep Wrangler: Spotlight on Comfort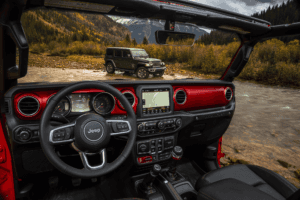 When you and your passengers take your seats inside the 2020 Wrangler, one of the first things you're sure to notice is the sheer space that's offered throughout the cabin. This point is made clear through an examination of the SUV's numbers for headroom, shoulder room, hip room, and legroom.
In the front row, there are 42.6 inches of headroom, 55.7 inches of shoulder room, 53.9 inches of hip room, and 41.2 inches of legroom. The back is just as accommodating with 41.7 inches of headroom, 55.7 inches of shoulder room, and 35.7 inches of legroom. Whether you're doing a little off-roading or merely taking part in your office's carpool, these measurements should do nicely.
Want to learn more about the Jeep Wrangler? Check out our library of reviews and comparisons!
Experience the 2020 Jeep Wrangler in the Flesh
You've just had a glimpse of just a few of the things that make the Wrangler such a standout. If you like what you've learned so far about what it can do, you're going to want to see how it handles on those Hamilton, Madison, and Smyrna area roadways. All you have to do to make that happen is contact University CDJR so we can get you scheduled for a test drive.